Breakfast soup millet quinoa
Breakfast soup with millet and quinoa
This is definitley one of my favourite dishes. I prepare it almost every morning in many variations and flavors. (Except during the hot summer months). This soup has a slightly sweet and fruity taste and is very energetic. It will give you a soft energie and motivation "shot" before you'll leave your home in the morning. Especially needed in the cold wintertime. Give it a try, you'll love it.
First I prepare a basic stock, which I can use for aprox. 4 portions (4 breakfasts). Every morning I take a bit and can cook within 5 minutes a fresh, warm, satisfying breakfast soup. Easy to do.
Ingredients basic stock
2 hands millet
1 hand quinoa
1 cinnamon stick
1 teaspoon turmeric (curcuma)
1 bit salt
Preparation basic stock
Wash the cereals carefully with cold water, than put the grains in a pot,  add 700ml fresh water, a bit of salt, the cinnamon stick and start boiling. Soon there will show up white foam. Please take it out.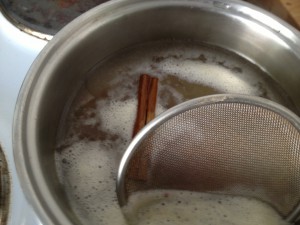 When the cereals stop producing the white foam, add the turmeric, slow down the temperatur and cook it slowly for 15 more minutes, until the grains are really soft and the water is almost completely absorbed. Pour it in a container, let it ccol down and store it in your fridge. It will keep in a good state for 4 days.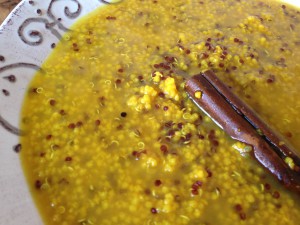 Preparation breakfast soup
3 soup spoons of the basic stock millet quinoa
200ml spelt milk (or any other milk you prefer)
1/2 pear (or apple, or apricots or any other seasonal fruit you like …)
2 plums (or dessicated coconut, or dried dates, or toasted sesam …)
planed almonds (or walnuts, or hazelnuts or …)
bit of salt
Take what your really like! The convenience of using spelt milk is, that it already has a natural sweet taste and doesn't need more sugar. If you like it even more sweet, take some dried dates, figs or raisins.
Put all ingredients together in a pot, boil it for 4 or 5 minutes and  your warm, tasty, energetic breakfast soup is ready. So easy and delicious.
Important: all ingredients are not only tasty, they contribute good stuff to your body, mind and wellbeing. Look here what millet, quinoa, cinnamon and turmeric bring in their baggage. Click on the words and inform yourself.
My favourite combinatios:
Basic stock millet quinoa & banana & cacou (sugarfree) & dessicated coconut & dried dates
Basic stock millet quinoa & apples & grinded lemon & dried dates
Basic stock millet quinoa & pears & almons & plums
There are no limtis. Be creative! Another good thing: you can perfectly use the "older" fruits you find at home instead of throwing them away. In summertime it's really deliciuos to add fresh blueberries or strawberries on top, or some fresh lemon yoghurt.
Have a good start in the morning! There is another salty alternative, but this will be another recipe.