Beet ragout with spinach lentils
Beet ragout with spinach lentils is simply great. It tastes like the warm earth y slightly sweet. With a lot of sauce and lots of color on your plate. The new way to prepare beets in wintertime. The recipe is a present from Rita Penica, "Kleine Biosphäre" in Berlin. She invented it! Forget your make up – you will shine brightly from inside.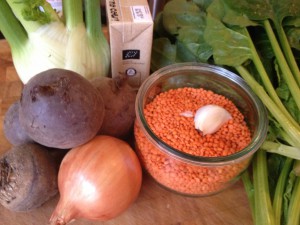 Ingredients for 3 persons, time for preparation: aprox 1 hour
500 gr. red beets
1 big yellow onion
1 big fennel, aprox 400 gr.
200 gr. fresh spinach leaves
250 gr. red lentils
2 gloves of garlic (optional)
1 package of oat cream or just cream (200ml – 250ml)
300 ml vegetable stock
salt, olive oil
Preparation
Cut the onions in cubes and chop the garlic, steam it with a bit of olive oil and salt until they get transparent. Add water if nesessary, to avoid burning the onions. They should keep their white color. Aprox. 10 – 15 minutes.
Wash the beets well with a brush and cold water, we are not going to peel them. Cut the beets in cubes of 2 cm (mouth size). Wash the fennel and cut it too.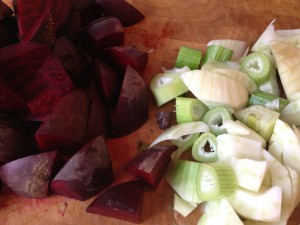 First add the fennel and a bit of the vegetabel stock to the onions and let it steam for 10 minutes, salt it slightly. Add the beets and the rest of the stock. Let it steam slowly for 40 minutes, the lid half closed.
Mix the cream (vegan or not vegan) with a soup spoon of peanut mousse in a glas, add it to the veggies and let it steam for 10 more minutes. And ready is the beet ragout.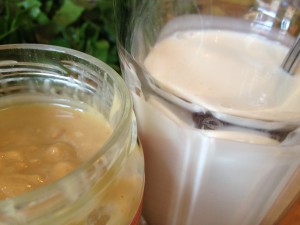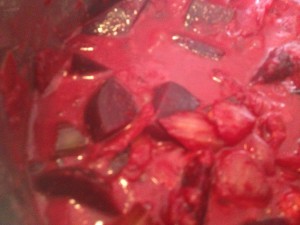 The spinach lentils are easy to prepare in 15 minutes, but they need your attention. Wash the lentils and put them with cold water, a bit of salt on the cooker and bring it to boiling. Take away the white foam. Important: don't add to much water in the beginning. It should be a purée not a mash at the end. Better add hot water later, only when it's needed. Stir the lentils from the moment they start swelling. When the purée is ready, add the spinach leaves and stir them slowly for 2 more minutes. Combine the spinach lentils with the beet ragout and enjoy! This is a recipe you will repeat, I promise you. Thank you so much Rita for sharing your recipe!