Eggplant parmesan casserole (recipe)
Eggplant parmesan casserole or Melanzane alla parmigiana (italian)

This is a wonderful vegetarien, tasty, familiy recipe from Italy, which will become part of your favourits once you tried it! The preparation time is a bit longer, more or less 2 hours, but very easy to make.
Ingredients for 4 people:
4 eggplants
2 mozarella
fresh basil
tomato sauce (homemade if possible)
parmesan cheese
olive oil, salt, pepper and thyme if you like it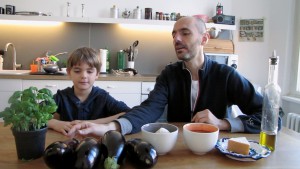 Clean the eggplants y cut them into slices, 1 cm thick each. Pile them in a sieve, and cover each slice with coarse salt. Go on like this until every piece of eggplant is covered with salt. Important: it must be coarse salt! Then take the sieve, put it in the sink, fill a cooking pot with water and place it onto the eggplants, as an heavy weight. Leave it there for 30 minutes.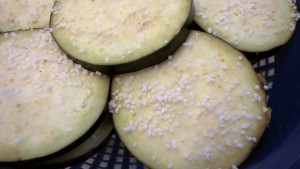 Clean the eggplant slices with cold water and put them aside. Take a barbecue grill (on your cooking plate), put some olive oil on the surface of the grill and start to broil little by little the eggplant slices, without burning them. Once they are ready, put them aside.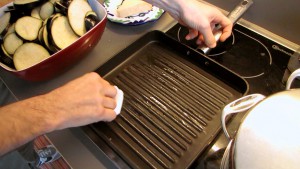 Cut the 2 mozarella cheeses into small pieces. Then take a casserole and "paint" the bottom slightly with tomato sauce. Now you start to pile all ingredients in this way: first put a round of eggplant slices in the casserole, then some mozarella pieces above, a bit of the grated parmesan, a little bit of salt, pepper, olive oil and some basil leaves. Go on and build up little eggplant towers in this way.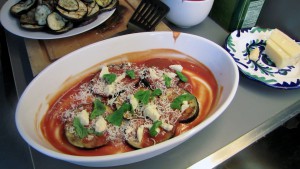 Finish all up with a good portion of parmesan cheese and some basil leaves.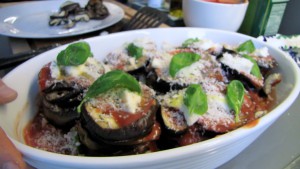 Then put it in the oven at 200ºC for 2o minutes. A good hint: if you prepare the eggplant casserole the night before, it will be still more delicious! If you have some doubts how to prepare this, please watch the video.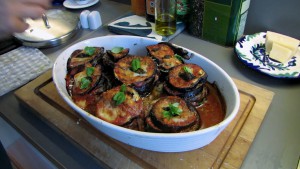 Big thank you to Gianmarco for sharing this fantastic recipe with us. Buon appetito and Enjoy it with a good glas of italian wine, a salad or fresh bread! You'll repeat this, believe me.