Mango Lassie
Mango Lassie is the perfect summer drink for hot days! Completely natural, sweet, fruity and slightly sour because of the joghurt. Just what you need when it's hot outside and much better than the artificial sweet bottled drinks.
Effects on the doshas: The ayurvedic philosophy says, that we shoudn't mix dairy products with sour fruits. But if you prepare your mango lassie with a ripe sweet mango, it should be OK.
Mango Lassie calms down vata and cools down pitta. People with a kapha excess, they shouldn't drink it too often. A salty lassie mixed with enough water would be more appropiate for them.
Ingredients for 2 – 3 persons

1 ripe and big mango, peeled and cut into short pieces
2 soup spoons cane sugar (integral)
300 gr. joghurt natural (3,8% fat) 5 – 6 soup spoons
500 ml cold water
1 soup spoon rose water
1 spritz of lemon juice
1 pinch of cardamom
Preparation
Put all the ingredients into a bowl an mix it until it's all smooth and creamy for one or two minutes. And ready! One of these mango lassies inbetween during the afternoon is also great and you can forget about the cookies and cakes. It will be fine in the fridge until the following day. Kids like it with a straw!
If you fancy a mango lassie in wintertime you can also use a mango puree. But the fresh fruit is always the best option.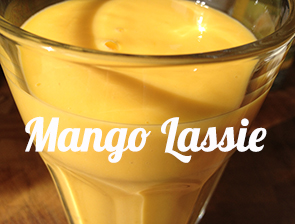 There are also salty lassies!