Mung bean patty banana
Mung bean patty banana – I'm sure this is a brand new recipe for you. It is delicious, rustic, fruity, satifiying and easy to digest. Enjoy it for a warm breakfast, lunch or dinner with any side dish you'd like to  – I have to admit that the first mung bean banana patties I make – they never make it to the table…they are too good to wait too long.
Effect on the doshas: tridosha – balancing the three doshas
Ingredients for 8 patties ( 4 per person are enough)
one cup of yellow mung beans ( 180 gr)
1/2 TS salt
1 little clove of garlic
2 TS fenugreek leaves
1/2 TS black onion seeds
1 – 2 spring onions, chopped in fine slices
1/2 TS turmeric
1 TS Garam Masala
1 ripe banana, cut in small cubes
2 – 3 SS neutral veggie oil
Preparation
Soak the mung beans in abundant water for minimum 4 – 5 hours, (the best is to soak them overnight) and pour the soakwater afterwards away. Put the mung beans with the salt and the garlic clove into a mixer and blend it all (without any liquid). Don't be afraid, it seems to be too dry, but it will work out creamy and fine, just as we want it to be. Heat a little bit of oil and roast the species fenugreek leaves, turmeric, garam masala and black onion seeds for 1 – 2 minutes. Pour the spiced oil now into the mung bean mash and add the banana cubes and chopped spring onions. Stir it all well.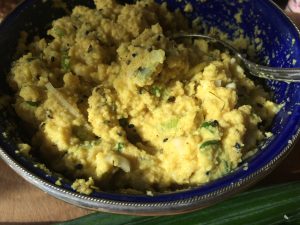 Now heat oil in the pan and take out 1 SS of the mung bean mash per patty, put it into the pan and press it a little bit until the surface is even. There should fit in 3 or 4 patties in one round. The pan must be hot, but the oil not "smoking". The second round always works out better than the first one.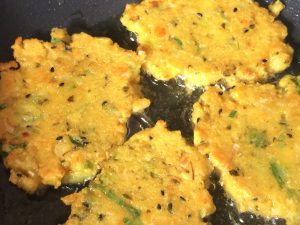 Let them pan fry for 3 – 4 minutes on each side. Watch out, the patties are very hot when they come out and they smell so good. Wait a bit, because if not, you'll burn your mouth and you'll lose the wonderful taste. I did.  I'm sure you'll learn this recipe very quickly and can use it as easily as you do when you prepare your pasta. They are really great! Enjoy and spread the word.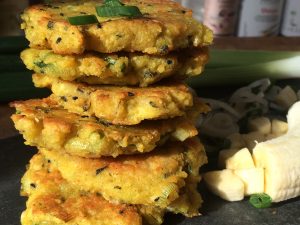 Additional health benefit from mung beans: click here