Spinach Creme Soup with cheese balls
Spinach Creme Soup with cheese balls is a really delicious and filling meal. The spinach creme soup will be very smooth through the addition af rice, has an aromatic taste, is easy to digest and healthy. The cheese balls are slightly crispy from the outside and soft inside – you can't get enough from them!
Ingredients Spinach creme soup for 6 – 8 people (the original recipe is from Julie Sahni)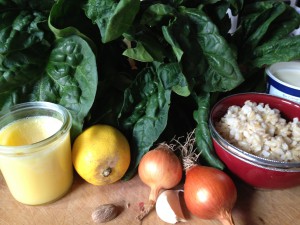 700 gr fresh spinach leaves
4 soup spoons Ghee or light vegetable oil (recipe homemade Ghee here)
2 mid size onions cut into fine slices
1 tea spoon garlic, finely chopped
1 tea spoon cumin powdered
1/4 tea spoon each: ground black pepper, cloves and nutmegg
1 liter vegetable stock
1 cup cooked rice
1/4 liter milk
1/8 liter creme fraiche
Salt, juice of 1/2 lemon
Preparation soup:
Wash the spinach well with cold water and clean it. Bring water in a big pot to boiling and  salt it with 1 tea spoon of salt. Put the spinach into the boiling water, when it starts boiling again, reduce the heat, let it cook for 5 minutes and pour it through a colander. Let flow cold water over it (this way it's going to maintain it's green color) and let it cool down. Then chopp the spinach.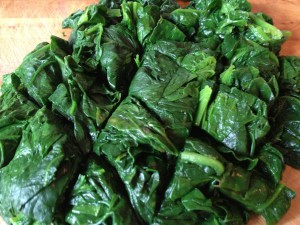 Heat the ghee in a little pan and roast the onios together with the garlic for 5 minutes. Add the cumin, stir it for 15 sec., than add the cloves powdered, nutmeeg and black pepper. Stir it and take it from the stove.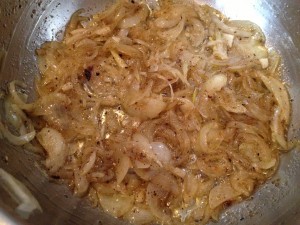 Now add the rice, the onion mixture, the spinach and the vegetable stock and mix it all with a stick blender. Pour the puree in a big pot, add the rest of the veggie stock, the milk and season to taste with salt and lemon juice. Before sefving the soup, add the creme fraiche and heat it up for the last time.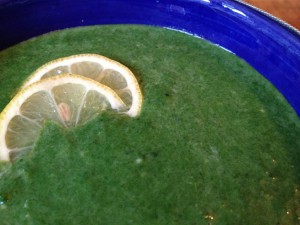 Cheese balls ingredients
Prepare indian panir cheese from out 2 liters of fresh milk (the nicht before or at least 2 – 3 hours before cooking), here you'll find the recipe: indian panir cheese
Or buy
250 gr fresh cheese ready
Ghee or light veggie oil for deep-fry
1 – 2 soup spoons white meal (depends on the texture of the cheese, panir cheese is firmer)
1 soup spoon fresh cilantro leaves, chopped
1 tea spoon salt
1/2 fresh red chili, chopped (optional)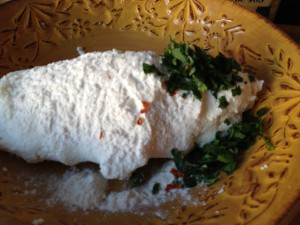 Preparation cheese balls:
Knead all ingredients with your hand until it gets to a homogenous mass. Form with your hands little walnut size balls.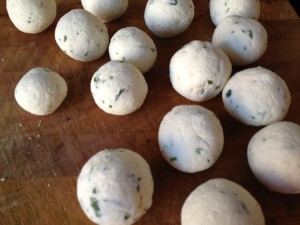 Now heat the ghee. The balls should "swim" in there. If you don't have ghee, use neutral vegetable oil. Deep-fry the cheese balls for 5 – 7 minutes, move them slightly with a spoon, until they get crispy and golden brwon all over. Get them out, let them dry on a kitchen paper and ready to add them into the spinach soup.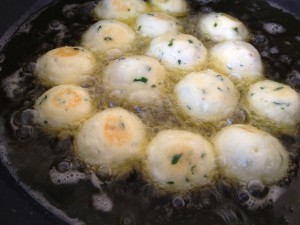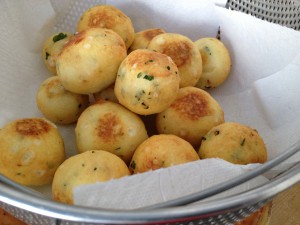 Enjoy! This is a great combination, you will love it. It's definitely a goal.