Sweet potato dal
Sweet potato dal – vegan
Sweet potatoe dal always works. Especially for dinner. Su base is made out of yellow mung beans, which don´t need to be soaked before cooking. Once you know how to prepare a dal, you can prepare thousands of them. In your own style, according to the season, your constitution and what you find in your fridge. It´ll never be boring! This dal has a slighly calming effect due to his sweetness, and the herbs and aromatic spices give him a very fine taste. I like it moste not too thick, with a bit more water. But you do it in your way. Time for preparatuon: 40 minutes
Effects on the doshas: tridosha, doshas are not disturbed. If uor Pitta is high already, keep out the sambal olek and instead of black pepper, you could use pippali pepper, which doesn´t increase Pitta more.
Ingredients for 4 persons
2 hands full of yellow mungo beans
2 red ripe tomatoes
1 onion
1 big sweet potato
1 TS black onion seeds
1 pinch asafoetida
1 TS turmeric, grounded
1/2 TS Garam Masala
1/4 TS Pippali pepper
1 pinch Anis grounded
1 TS salt
1/2 TS Sambal olek
1 TS Fenugreek leaves
1 garlic clove
a bit Tamarinde paste or lemon juice or lime juice
2 SS veggie oil
1 SS Ghee (or veggie oil)
freshly chopped cilantro leaves
Preparation
Wash the mung beans under cold water within a siev until the water comes out clear and not white coloured. Put it aside. Peel the onion and cut it in fine slices. Heat oil in a pot at medium and roast the onion and the garlic clove for 8 – 10 minutes. No rush, only this way the onion becomes it´s sweet taste.
In the meantime peel the sweet potato and cut it into cubes of 1 cm. Wash the tomatoes, take out the pits and cut them in pieces. Than add the black onion seeds and the asafoetido to the pot and leave it for 1 minute, stirring carefully. Now put the mung beans into the pot, roast them a bit, add the sweetpotatoe cubes and tomatoes and roast them too. Then fill it all up with water, until the water stans two fongers wight over the veggie-beans mixture. Put the lid half closed on the pot and let it simmer for the next 30 minutes. When the beans and the sweet potato are really soft, take the pot from the heat.
Heat in a smaller pot the ghee (or veggie oil) and roast there for 2 minutes this spices, without burning them: turmeric, anis, pippali or black pepper, garam masala and fenugreek leaves. Now add the ghee to the dal and stir it. Mix it all with a blender to a medium thick soup. Put the dal back on the heat and season it with salt, sambal olek and a lemon shot or tamarinde paste. Serve it with freshly chopped cilantro leaves and enjoy!
You can do whatever you like. Add some stirred up coco milk with a bit of salt or cardamom, this is a nice topping. When you think o men, this are a lot of spices, invest a bit of money. It is really worth it. The spices have a deliciuos taste and they stimulate our agni and garantee a good digestion, so that we can get the best out of our food for our body and mind. I eat a dal every night. And I prepare them differently. Find your own style and your friends and family will like this dal! Prepare a bit more so you can eat twice from the same pot. And what is valid for all indian dishes, they taste even better the second day.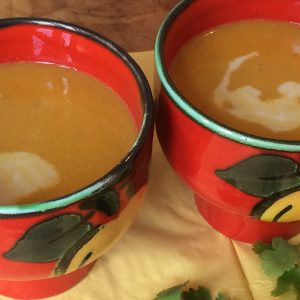 This sweet potato dal is really something. Enjoy!