Chaat salad
Chaat salad – vegan
Chaat salad is a wonderful summer salad – fresh, crunchy, spicy, with roasted warm chickpeas. For a hot summer night, when you are not in the mood to cook a bigger meal or as a lunch snack for office. His extraordinary taste comes from the Chaat Masala: it contains all tastes – sweet, sour, hot, bitter, salty and astringent, through it´s special spices mixture like black salt, cumin, cilantro, cayenne pepper, amchur and black pepper. Seaseoned with coco rasps and fresh lemon juice is this Chaat salad a summer night dream! I found the recipe in the book "Original Indisch" from Meera Sodha. A great pleasure on many pages. This salad is refreshing and satisfying.
Effect on the three doshas: tridosha, no dosha is increased. If your Pitta is high already, let the sambal olek and the black mostard seeds out and use instead fresh grinded ginger.
Ingredients for 4 persons (if you are really hungry this is for two)
1/2 cucumber (280 g), pits taken out
200 g garden radish (the small red ones)
4 spring onions
pits of 1 pomegranate
25 g fresh cilantro leaves
4 SS rape oil
1 TS black mustard seeds
1 small can chickpeas
1/2 TS cayenne pepper (or sambal olek)
3/4 TS salt
2 TS sugar
juice from 1/2 lemon
2 SS coco rasps
1/2 TS Chaat Masala (asia shop)
Preparation
Peel the cucumber and cut it in half, then take the pits out. Cut the cucumber in small cubes likes the same size of the chickpeas. Do the same with the garden radish. Cut the spring onios in fine slices and give them together with the pomegranate pits into a big bowl. Chopp the cilantro leaves and add them to the bowl.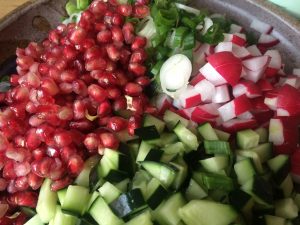 Heat the rape oil in a pan at medium level, put the mostard seeds in and when they pop up, add the chickpeas. Roast them for 5 minutes, until they get slightly brown and crunchy. Then add the cayenne pepper, salt, sugar and the lemon juice. Low down the temperature first and then add the coco rasps (they shouldn´t get burnt). Ready. Add the chickpeas to the bowl, season it with the Chaat Masala and mix it all well. I love the taste of this Chaat Masala so I give a bit more than half teaspoon. Look what you like.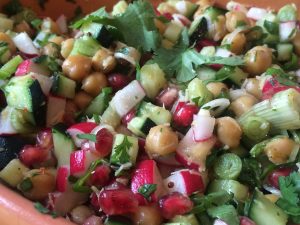 For the best you should prepare a doble portion 🙂 you will love this one. Enjoy!