Tomato sauce stock
This tomato sauce stock is a very good element for your freezer: she is delicious and it´s wonderful to haver her in the freezer and take a portion out just when you need it for a pasta sauce, a pizza or any other goodies. She contains a huge amount of veggies – almost invisible for kids – and has a slightly sweet and soft taste. You give her the ultimate "touch" in the moment you need her. This recipe comes from Jamie Olivers book "Genial gesund" which I can really recommend. You can just devour this tomato salsa with a big spoon, without anything else. And you choose the veggies according to the season. Intuition and creativity are most welcome!
Ingredients for 3,5 – 4 liters (you can cut the quatity in half if you need less)
2 little onions
2 leeks
2 celery sticks
2 carrots
2 zucchinis
2 red peppers
1/2 butternut pumpkin (ca. 600 g) or sweet potatoe
2 garlic cloves
olive oil
2 TS dried oregano
4 cans tomatoes of good quality
Preparation
Peel the onions and the garlic and chop them. Wash the celery, the leeks, the carrots, the zucchini and the red peppers (take the bits out) and cut them into tiny pieces.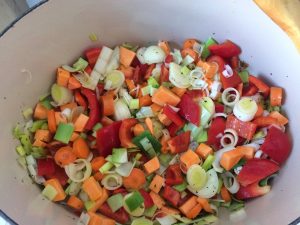 Heat 2 SS of olive oil in a big pot at medium temperature and roast the oregano and the garlic in it for 1 – 2 minutes. Add the sliced veggies, salt them slightly, put a lid on the pot and cook it gently for 25 minutes. The veggies should be soft afterwards, not burned.
Then add the tomatoes and crumple them with your hands carefully. Fill the empty tomatoe cans half with water and pour the water into the pot. Let it all cook for 25 more minutes.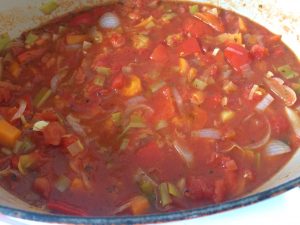 Take the pot from the cooker and when the sauce has cooled down a bit, blend it all down in a mixer to a smooth sauce. Season it according to the use of the recipe or what you most like! I like it with salt, black pepper, a bit of lemon juice, maple syrip, some sambal olek and rosmarin. And ready is the tomato sauce! Put it in jarrs or small bags in the freezer and take it out when ever you need it.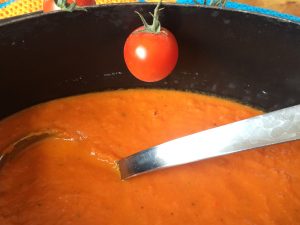 Find here a very tasty recipe "pasta with thuna fish and lemon" to use this tomato sauce. Click here for the recipe.