Banana Bread vegan
I'm not a passionate bread or pastry maker, but this Banana Bread vegan and me was love from the first "bite". My collegue Jenny brought this delicious bread to our course and since than I prepare it quiet often! Without eggs, without butter. Our fat: virgin coconut oil. Our flour: spelt. The bread mantains fresh in the fridge for 5 or 6 dyas, but this rarely will happen. Family, neighbours, nices, collegues, they all love this banana bread. So do the not vegan.
Time for preparation: 10 minutes. Time for baking: 50 minutes
Ingredients
400 gr. very ripe bananas (4 pieces)
250 gr. spelt flour Type 1050 (or Type 630)
10 gr. baking powder
90 – 100 gr. virgin coconut oil (if you use the 630 flour, you'll need only 80 gr. of oil)
80 gr. integral sugar
100 gr. dark chocolate, roughly chopped
10 – 12 walnuts, roughly chopped
1 pinch of cinnamon
a bit of vainilla, if you like it
Preparation
Heat the oven to 185ºC. Up to 175ºC if you use an "aire circulation" oven.
Smash the peeled banana, the sugar and the coconut oil with a fork. Heat the coconut oil a little bit if it's to solid.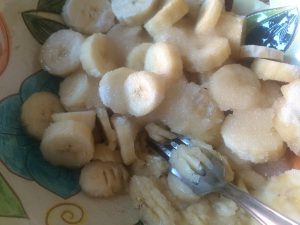 The dough should be pasty, but not too plain. Seeing still some banana pieces is fine. Than add the baking powder, the flour and the cinnamon and stir it shortly until you can't see the Withe flour anymore. Not more. Than fold in the chocolate and the walnuts, roghly chopped.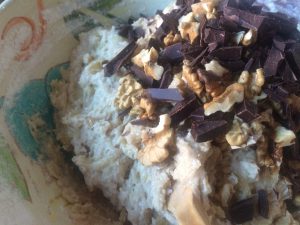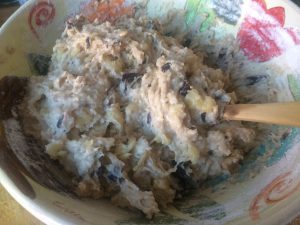 Oil the form with some of the coconut oil and pour the dough inside the form.
The bread should be baked for 50 minutes. Put a piece of aluminium foil on top, if the up side is getting too dark for the last 10 minutes. Take the banana bread out, let it cool down and enjoy it. Crunchy from the outside, fluffy and juicy from the inside. Fantastic. And easy to digest.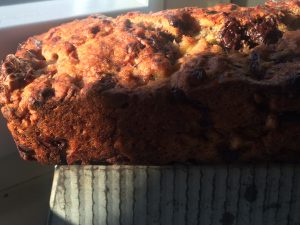 This recipe is an adaptation of the banana bread of "Tines vegane Backstube", a very nive vegan blog on sweets and bakery in german. And thanks a lot to Jenny for offering me the first bite!