Pumpkin au gratin with oranges
Pumpkin au gratin with oranges is a real winter dish. But it´s not heavy. I composed it out of two separate recipes to one, which were both from Petra Skibbe, a very well known german ayurvedic cook (Ayurveda – Die Kunst des Kochens). The sweetness of the pumpkin and the slighty fruity note from the oranges, rounded by soft panneer cheese…makes this gratin so tasty that it´s hard for me to eat it slowly. Instead of panneer cheese tofu can be used. I personally like the panneer cheese variation very much. The preparation is easy and has another advantage: the veggies can stay a bit longer in the oven, when guests still might not have arrived yet.
Effect on the doshas: pumpkin increases Kapha. The gratin is a very good option for Pitta and Vata types. The oranges increase slightly Pitta. But if you find some sweet oranges, that should be fine.
Ingredients for 4 persons
300 g panneer cheese (or tofu) sliced, click here to find the recipe how to make panneer cheese
1 kg pumpkin
3 – 4 ts fresh grinded ginger
1/2 ts salt
1/2 ts black pepper (lemon pepper would be optimal)
20 g butter (vegan: 2 ss sunflower oil)
Ghee for frying
1 ss raw cane sugar
1 orange sliced very skinny
juice of 1/2 orange
For the marinade (panneer or tofu)
3 ss sesam oil
juice of 1/2 orange
1/2 ts lemon pepper
1/2 ts salt
1/4 ts cayenne pepper
1 pinch of cinnamon
1 ss sesam seeds
Preparation
Marinate the tofu or the panneer at least for one hour in the: oil, spices and the orange juice. Wash the pumpkin, take the pits out and cut him in very fine slices. If you use Hokkaido pumpkin the skin might stay, so less work to do. Peel the orange, slice her finely and put her to a side.
Put oil in the casserole and pre-heat the oven up to 220°C. Now put the pumpkin slices like a roof tile. First one, than the next. In between put the orange and panneer slices alternativly. It should make 2 layers. Look at the foto.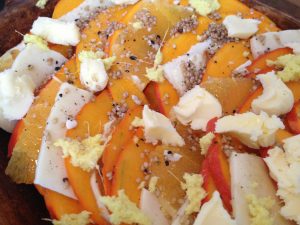 Give the frech grinded ginger on top, the sesam seeds, salt, pepper and a bit of sugar. Finally pour the orange juice above all and the butter flakes. Put a lit on top and put the casserole into the oven. Bake it for 45 minutes to 1 hour at 200°C. It tastes divine.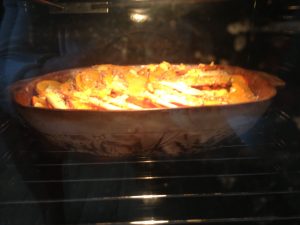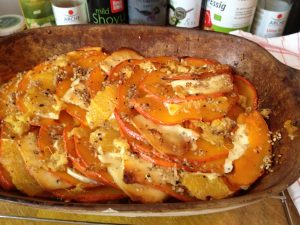 Enjoy your pumpkin au gratin with oranges!