Green buttermilksauce
Green buttermilksauce – slightly acid, creamy, mhhhh not iiiihhh. Fresh herbs, aromatic spice and turmeric give her the colour and the taste. Prepared in 15 minutes, easy to digest and it's also a pleasure to those who normally can't eat "fatty" pasta sauces. This green buttermilksauce is served with homemade gnocchi or spelt pasta. It fit's also fine with steamed veggies. There is no similar taste as I can remember…really fresh and unique. The original recipe is from Petra Skibbe and her cook book "Ayurveda – the art of cooking" (only available in german). And this recipe is so good, that with didn't change anything.
Effect on the doshas: balancing the three doshas
Time for preparation: 15 minutes
Ingredients:
300 ml pure buttermilk (best use homemade)
300 ml water
3 – 4 SS rice flour or corn starch
6 SS fresh herbs chopped, f.e. cilantro, basil, sage or oregano
1 – 2 TS fresh grounded ginger (pitta take only one TS)
1/2 TS turmeric
3/4 TS cilantro seeds, grounded
1/2 TS salt
1/2 TS fresh grounded black pepper (or pippali for Pitta types)
1 pinch nutmegg
1 – 2 SS Jaggery or maple syrup
3 – 4 SS cream
Who has: 3 – 4 calendula flours
Preparation:
Mix the buttermilk with the water and the corn starch in a bowl. Than heat the olive oil in a pot, and add and toast the turmeric, ginger and cilantro seeds for some seconds. Pour the buttermilk mix over it, stir it all and let it cook slightly to thicken the sauce a bit. Add the sugar type you choose and the cream. And season to taste with the nutmegg, salt and pepper. At the end add the chopped fresh herbs, and serve the sauce hot. Enjoy!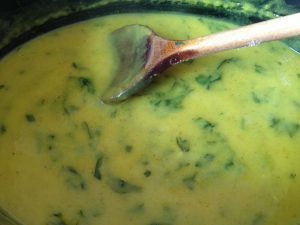 One tipp: like almost all indian meals, this one tastes even better the second day.